Last updated on February 8th, 2022 at 10:57 am
The exhibition Memória de festivais e eventos de arte proposes a look at the Portuguese art scene present on the Web and includes a chronology of these events.
This online information product is a presentation of the results in a systematic and structured way of the PARA SEMPRE project.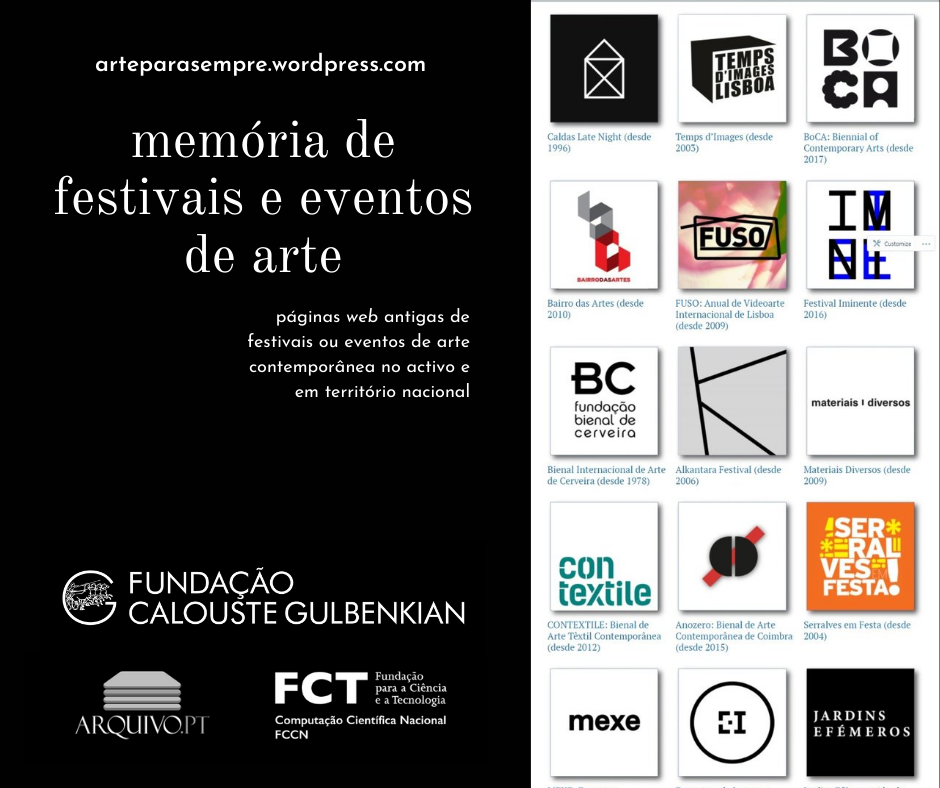 Online exhibition – arteparasempre.wordpress.com
The project's second online product will be a directory of references of artists, galleries and projects in the area of contemporary Portuguese art to be made available during 2022, at the Gulbenkian Art Library webpage.
Cycle of Webinars "Art forever on the web"
A cycle of Webinars entitled "Art forever on the web" was held, between April and July 2021, oriented to artists, curators, gallerists and event producers, among others.
The average number of participants was 58 per session, who evaluated their satisfaction, on a scale from 1 to 5, with an average score of 4.6. The three sessions aimed at disseminating knowledge about digital preservation of information on the web and requirements for publishing preservable information.
Identification of artists, galleries and projects
The first step was to identify relevant artists, galleries and projects in the contemporary Portuguese art scene. We started from an initial set of 63 agents (artists, galleries and projects), to which 573 artists belonging to the Modern Collection of the Calouste Gulbenkian Foundation and the BAA – FCG Collection of Artist Books and Independent Publishing were added.
Throughout these months, 636 elements were thus identified (social networks and websites active in 2020), which were subsequently analysed.
The conclusions of the analysis carried out within the project were presented in the last webinar, held on July 1, 2021 :
Special feature on art websites and blogs
In April 2021, Arquivo.pt made a special collection based on the initial identification of artists, galleries and projects and obtained 2.8 terabytes of preserved information.
New contents about art websites were recorded, using tools that allow higher quality collections, such as Brozzler and Webrecorder.
A collaborative project of digital curation
"PARA SEMPRE" (forever) is a digital curatorial project applied to the information made available on the web by the several agents of the contemporary Portuguese art scene (artists, galleries and hybrid sites).
Its main purpose is to contribute to the preservation/reuse of past and future pages, to ensure the preservation of the digital memory of current Portuguese art available at Arquivo.pt, and to promote knowledge on this theme by presenting it in a systematized and structured way.
Its creation results from the encounter of the missions of two organizations: one that aims to ensure the preservation of the Portuguese web, Arquivo.pt, and another that assumes itself as an agent in the development of knowledge about contemporary Portuguese art, the Calouste Gulbenkian Foundation Art Library. This is part of the ROSSIO (Research Infrastructure in the Social Sciences, Arts and Humanities).