Last updated on October 16th, 2023 at 06:59 pm
Some web-archived pages are reproduced incompletely due to problems occurred during the archiving process (e.g. deformatted or missing embedded images).
Complete page is a function of Arquivo.pt that allows to recover missing elements in web-archived pages, from other web archives or the original websites.
When a user views a page archived in Arquivo.pt, just needs to access the Options menu in the top right corner and choose Complete page.
This process is performed automatically.
How does Complete page work?
If you open a web-archived page that appears incomplete, try the Complete page option and wait.
Arquivo.pt will search for missing elements on the Internet and in other web archives using the Memento protocol. If it succeeds, the obtained elements will be immediately displayed on the web-archived page.
Later, these recovered elements are integrated into the Arquivo.pt collection, so that the web-archived page will appear more complete in the future accesses performed by any user.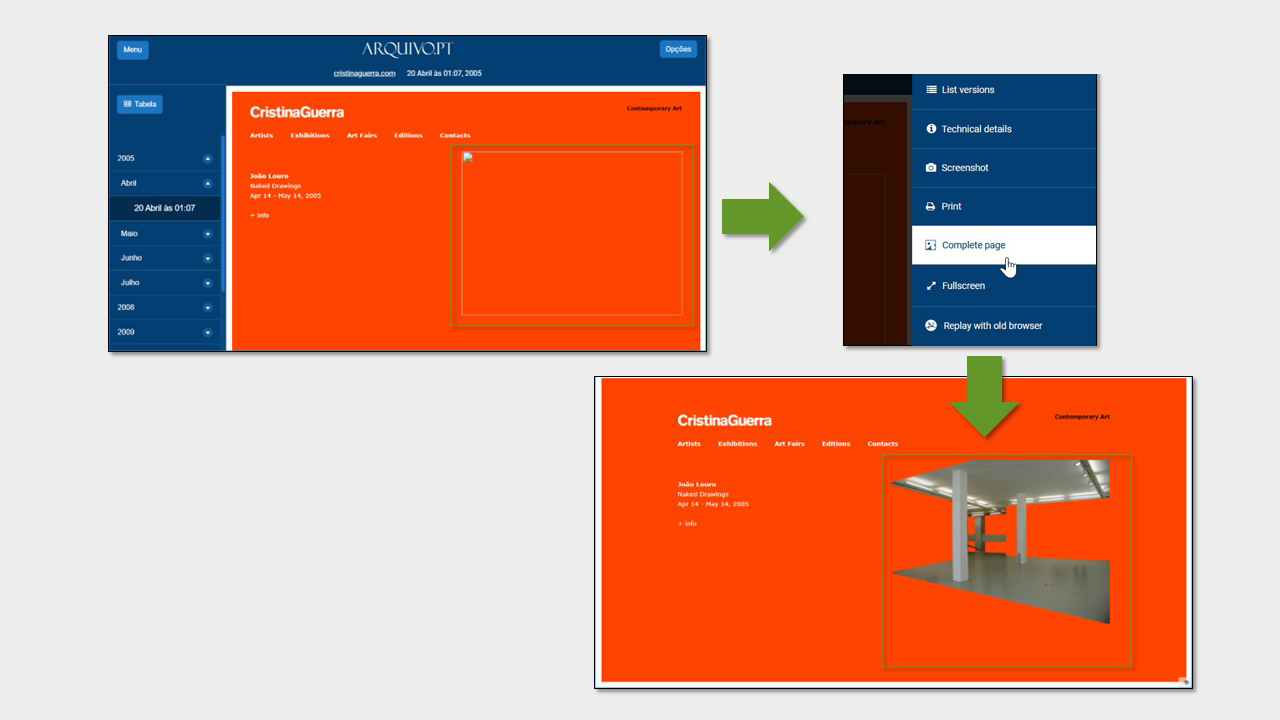 Completing the home page of artist Cristina Guerra's website found a missing image.
For example, the website of artist Cristina Guerra archived in 2005 had a missing image. By using Complete page, it was possible in 2021 to obtain this missing image from another web archive which preserved it.
Participate in collaborative curation to improve the quality of Arquivo.pt!
Due to the high number of web-archived pages, it is not possible for Arquivo.pt to complete them all automatically. Therefore, the collaboration of users to identify important pages with missing elements and try to complete them is important.
By using Complete page, the users are contributing to improve the quality of the historical webpages preserved in Arquivo.pt!
Always give it a try to complete web-archived pages may that look incomplete. If you detect any problem, contact us.
Spread the word about the Arquivo.pt Complete page!