Last updated on November 21st, 2023 at 03:24 pm
More than 100 historical websites from the Faculty of Sciences of the University of Lisbon (FCUL) are now accessible through the Memorial service of Arquivo.pt.
FCUL's IT Department sent to Arquivo.pt a list of old websites hosted on its servers that were no longer updated, but whose historical content continues to be interesting to the community (e.g. websites of research projects or scientific events).
Arquivo.pt preserved these websites in collaboration with their ownersa, seeking to maintain a faithful representation of the published content for the future.
FCUL redirected the domain of each website to Arquivo.pt, and then, became able to disconnect the respective servers and  begin sparing the resources spent on their maintenance (e.g. electricity, data center space, human resources).
The show case of MiNEMA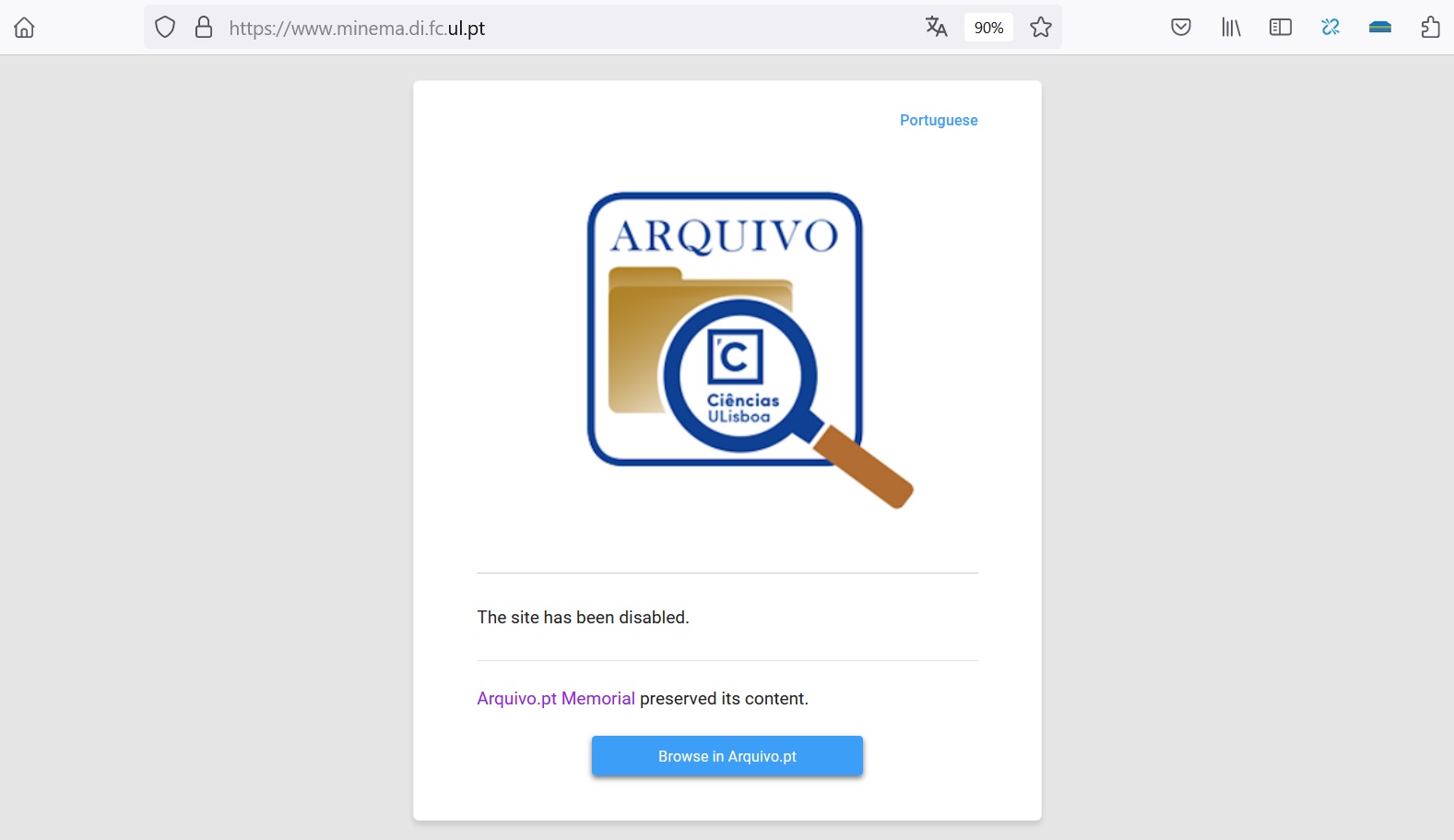 Landing page of www.minema.di.fc.ul.pt at Memorial do Arquivo.pt.
The MiNEMA scientific program website was the first that FCUL integrated into the Memorial. This website stopped being updated in 2009 when the project ended. FCUL invested resources in maintaining the website for another 10 years until it became necessary to suspend it down for cybersecurity reasons.
The Memorial of Arquivo.pt emerged as an option and since 2020, FCUL just needs to maintain the domain www.minema.di.fc.ul.pt while Arquivo.pt preserveS the information contained on the website.
Please note that the website's content continues to be displayed in search engine results.
Follow FCUL and preserve your historical websites in the Memorial!
An increasing number of institutions are recurring to the Memorial of Arquivo.pt to safely preserve the content of their historical websites. For example, FCUL preserved 116 websites, the Government IT Network Management Center preserved 23 and the Foundation for Science and Technology preserved 40.
Public institutions have priority to benefit from this service. However, other entities can also request it as long as they own the website domain.
Identify your historical websites candidate to be integrated into the Memorial of Arquivo.pt and contact us!
To know more