Last updated on November 23rd, 2023 at 12:40 pm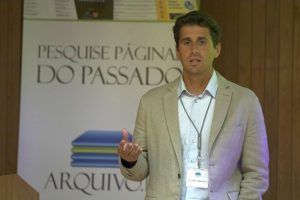 Short biography
Daniel Gomes started Arquivo.pt (the Portuguese web-archive) in 2007 as follow-up of his PhD thesis and currently leads this public service.
He is a researcher in web archiving and web-based information systems since 2001. He obtained is PhD in Computer Science with a thesis focused on the design of large-scale systems for the processing of web data.
Daniel Gomes was the chief-editor of the book The Past Web: exploring web archives.
Contacts
Scholarship
PhD in Informatics Engineering by the University of Lisbon (2007).
Graduated in Faculdade de Ciências da Universidade de Lisboa, specialized in Information Systems (2001).
Selected publications
Other publications
Selected talks and interviews
Other interests